DACHSER starts delivering daily with fully-electric truck in Oporto
As a result of the logistics provider's commitment to climate protection, DACHSER Emission-Free Delivery starts in the city of Oporto, Portugal. The distribution concept for inner cities means that all parcel and groupage deliveries will be made with zero emissions, on local level, in a defined area of the city.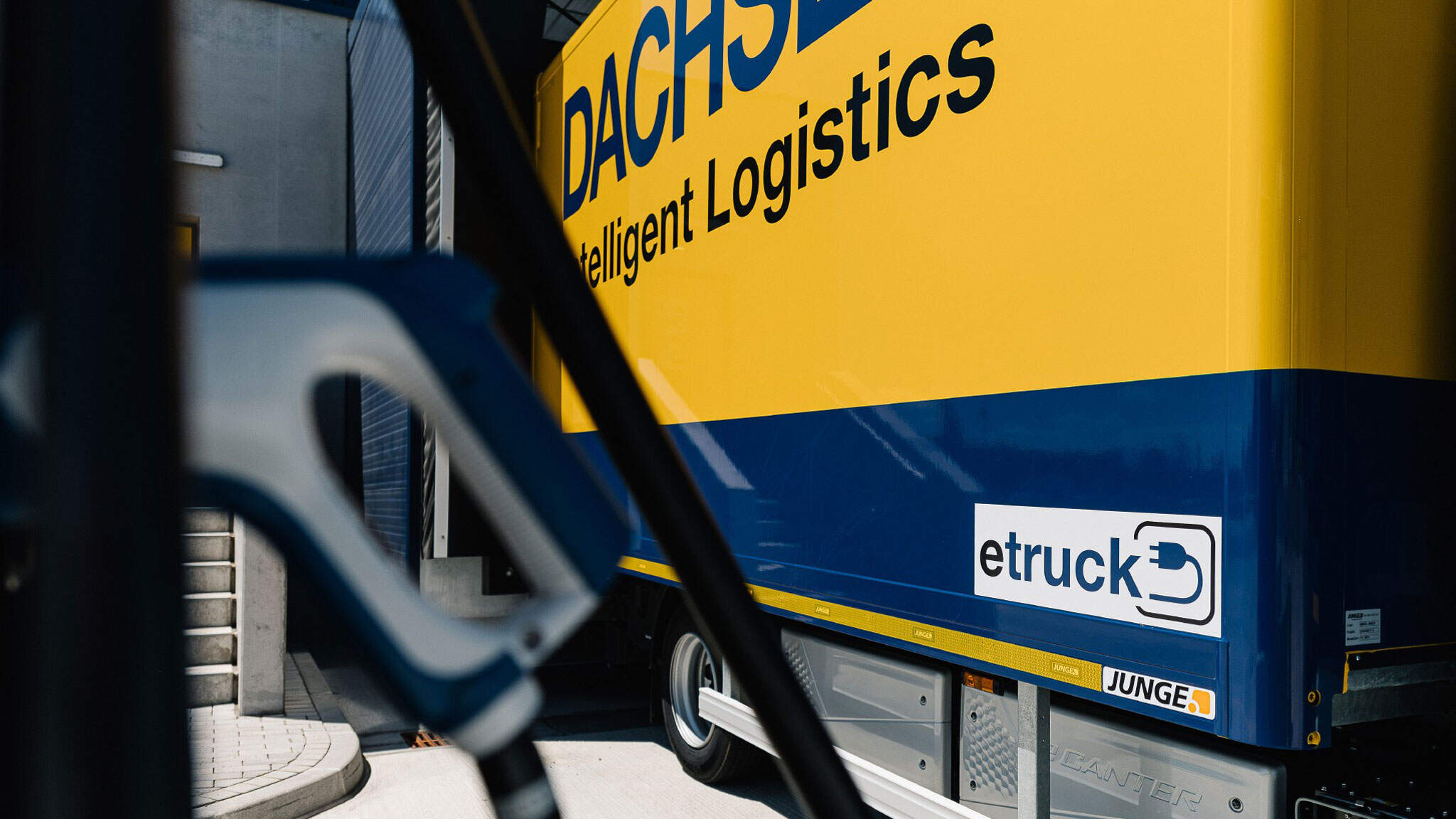 DACHSER Portugal's first blue and yellow fully-electric truck has already arrived in Oporto. As of this month, the 100% battery-electric truck will be driving through the "Unvanquished City" of Oporto, the second largest city in Portugal, proving the sustainability of the logistics operator's city distribution services. "The concept, which is named DACHSER Emission-Free Delivery, allows exclusively for deliveries without polluting emissions, on a local level, in a defined area of the city", explained Celestino Silva, Managing Director European Logistics Iberia at DACHSER. "This model has already won a federal award for sustainable urban logistics in Germany and will be launched in eleven European metropolitan areas until the end of 2022, Oporto being one of the first," Silva proudly concluded.
Every day of the week, the zero-emission truck departs from the DACHSER branch located north of the city, loaded with parcel and pallet shipments. The destination of this particularly noise-reduced vehicle: the city center, where it will deliver goods to stores or private consignees.
For these environmentally friendly deliveries, DACHSER is relying on the FUSO eCanter model, the only 7.5-tonne 100% electric truck on the market that is being produced on a larger scale. With a payload of 2.9 tons and a capacity for 10 pallets, the FUSO eCanter features a range of approximately 120 kilometers, making it the ideal solution for the shorter trips in city centers.
More environmentally conscious and friendly distribution at European level
DACHSER Emission-Free Delivery was launched in December 2018, with a pilot project in the German city of Stuttgart. Since then, the sustainable city distribution concept for groupage deliveries has expanded and is now also present not only in Stuttgart, but also in Freiburg in Germany, Oslo in Norway and Prague in Czech Republic. Very soon, it will also start in Madrid in Spain. By the end of 2022, a total of eleven European cities will have introduced DACHSER Emission-Free Delivery. The adoption of this model materializes a series of measures that DACHSER plans to implement in the coming years as part of its long-term climate protection strategy.
Sustainable distribution services
"DACHSER is fully committed to contribute its part to climate protection and actively approaches this topic implementing a strategy which focuses on efficiency in terms of energy consumption and production and logistics processes, as well as innovation and integrative responsibility," declared Silva.
With the innovative DACHSER Emission-Free Delivery concept, the logistics operator manages the delivery of goods in inner cities solely by means of vehicles with zero emissions of air pollutants and greenhouse gases at the local level and fewer noise emissions. For this, DACHSER plans to expand its fleet, adopting more electric trucks and charging stations. The company will also participate in hydrogen truck trials. In parallel, DACHSER is redoubling its efforts to use loading space as efficiently as possible. Since the beginning of the year, DACHSER only purchases electricity generated from renewable resources worldwide, increasing its share of green energy from around 60% to 100%. The international company also plans to significantly intensify its internal renewable energy generation through the installation and expansion of photovoltaic systems on the roofs of its logistics facilities and office buildings in Europe.